I Dreamed I Saw Joe Hill… Last Night!
Tickets are now on sale for Joe Hill's Last Will, Fri., Nov. 20, 2015 at Su Teatro Cultural and Performing Arts Center in Denver. See below for details about the play.
---
A proud itinerant worker, Joe Hill was also a renowned poet and songwriter, and an organizer for the fiery Industrial Workers of the World union. After being framed for murder, Joe was sent to firing squad in Salt Lake City a century ago. Some say he died; some say he never will.
This year workers all over the U.S. and abroad will celebrate Joe's life and work. In Colorado the IWW and the Bread and Roses Workers' Cultural Center will join others to commemmorate Joe's spirit in song and story —
On November 20, the day after the 100th anniversary of Joe's execution, five-time Grammy nominee John McCutcheon will perform Si Kahn's musical play Joe Hill's Last Will at Su Teatro Cultural and Performing Arts Center in Denver with support from Swallow Hill Music, and the local IWW branch among others. Proceeds after expenses will go toward re-establishing space for the Bread and Roses Workers' Cultural Center in Denver. Tickets are now on sale.
The much anticipated major concert at Mackey Auditorium in commemormation of Joe Hill has been cancelled. For an alternative at a future time, please keep checking this website.
For other Bread and Roses projects, watch this space in the coming weeks.
---
Commemmorative Calendar
2015 Calendars are available. This is a special edition commemorating the 100th anniversary
of the execution of Joe Hill. Size is 11.5 x 12" folded (larger than usual 8.5 x 11").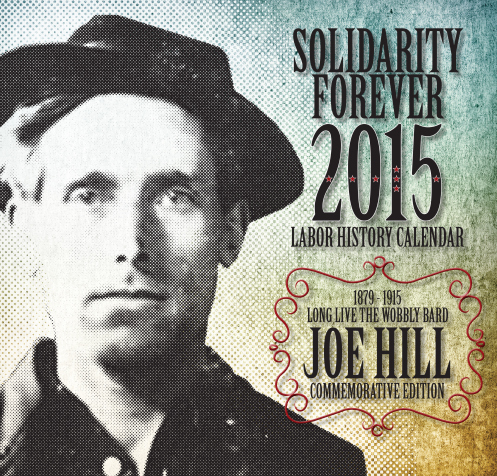 Shop for all your gift-giving needs here.

IWW Meetings
DENVER–BOULDER GENERAL MEMBERSHIP BRANCH
Tuesday, November 3, 2015
7:00 p.m.
Dayton Memorial Library, Regis University, Room 202
Northeast corner of 50th Ave & Lowell, Denver, CO 80221
Directions and campus map here (select Academic & Administrative >
Dayton Memorial Library > Directions)
or
Follow the Denver Branch on Facebook
or
Browse the Events Calendar on the IWW website
or
Contact us here
Joe Hill Lives…
JOE HILL FESTIVAL
In August 2011, we held a successful Tribute to Joe Hill featuring a concert by John McCutcheon, with local folk artist Elena Klaver, and also featuring films, poetry and song.
The tribute coincided with the release of a new book by our good friend, and Denver author, Bill Adler that rips open the case against Joe and presents the whole IWW history of the period between the founding of the union in 1905 and Joe's execution in 1915, and more, and does so excellently. See the official book website.
Follow the book on Facebook
Bill Adler embarked on a book-signing tour of Washington DC, New York, Brooklyn, Detroit, Ann Arbor, Madison, Minneapolis, Missoula (x2), Portland (x2), Seattle (x2), Rossland BC, Eugene, Park City and Salt Lake City, Berkeley, San Francisco, Corte Madera, San Pedro, La Jolla, Venice CA, Claremont, Tucson, Austin, and more. It's all listed on the book website.
Our activities at Bread and Roses Workers's Cultural Center kicked off what will be several years of activity around Joe leading up to the centennial anniversary of his death in 2015. We have lined up a major promoter and thereby a major concert to go along with films, documentaries, a musical play, poetry and the book reading. We will need a great deal of help on this, especially publicity/media and outreach, and this may be an opportunity to raise significant funds to develop Bread and Roses projects in Joe's memory. This could be a corner-turner in making our Center a force for working class self-activity and -development: join in! Contact us here.
For more information about Joe Hill, see our
Joe Hill "Little Red Sourcebook"